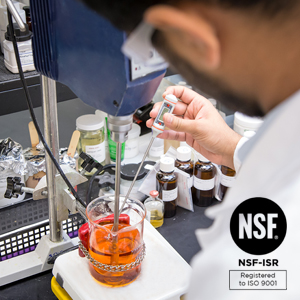 Gordon Labs is pleased to announce its certification by ISO. Our devotion to a robust quality management system, which has been a core value since our earliest days, has been the focus of continual improvement over the last year.
"The requirements for an ISO approved quality management system include rigorous documentation for determining process interactions," says Prashant Ingle Vice President of Quality and Regulatory. "Our certification reflects our commitment to the responsible management of product development, the workplace environment and product realization through internal audits, with corrective and preventative actions."
Gordon Labs has a long and established track record of successfully developing new products for the cosmetics and personal care markets and is established as an FDA registered, OTC facility. Adding the ISO 9001:2015 certification puts an objective seal on our quality focus, and highlights our unique capabilities to both existing and prospective customers.
Following the seven quality management principles, Gordon Labs was audited based on an extensive sample of its facilities, functions, products, services and processes in the fourth quarter of 2017.
The ISO 9001:2015 certification also requires that those at the top of the organization be accountable, aligning quality within the overall business strategy. In addition, risk-based consideration within the standard serves the management system by providing a preventive tool that encourages continuous improvement.
"Our focus has always been on putting our customers first to make sure we consistently meet and exceed their expectations," says Michael Pereira, CEO of Gordon Labs. "We are delighted that our ISO 9001:2015 certification reflects the exceptional work and dedication of our entire team and welcome new customers to experience the Gordon Labs difference."